Bent's Old Fort National Historic Site
La Junta, Colo.
Visited: August 7, 2004
NPS Site Visited: 74 of 353
NPS Website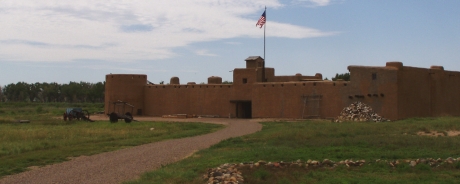 WHAT IS IT?
An adobe Santa Fe Trail Trading Post reconstructed in the same location in 1976 for the American bicentennial and Colorado centennial.
BEAUTY (7/10)
Yeah, itís a reconstruction, but it is done so well and it is really cool looking. The NPS has immaculately refurbished the Trading Postís rooms to their 1840ís specifics using 1846 drawings done by Fort resident Lt. James Abert. The inner plan of rooms is fascinating. Doorways and ladders wind in and out and up and down, never in the place you think they are going to be.
Our favorite room was the Billiards Room. We were lucky because not every tour group stopped here. The Ranger prefaced our entry with ďI should only ask the gentlemen to accompany me.Ē We entered the room and he swooped off the thick dust cover to reveal a massive, rubber sided, absolutely stunning wood pool table, an exact replica of the 1840ís version. What a place to be. The famous names of the Old West passed through Bentís Old Fort. It was easy to imagine them here, telling stories, drinking whisky and smoking cigars.
HISTORIC SIGNIFICANCE (7/10)
Bentís Old Fort in the 1830ís and early 40ís was one of those rare places in time in the American West where trade and relations between the Native Americans, whites, Mexicans worked. The violence, disease and destruction of the Old West was yet to come. People got along, intermingled, got what they wanted and commerce was successful. Bentís was an important stop on the Santa Fe Trail, a center of Trade and a travelersí oasis. Manifest Destiny passed through this place. Kit Carson, Zebulon Pike, Yellow Wolf and John C. Fremont. William Bent was well respected by all. He had a good life. By 1845, it was coming to an end.
The military moved into Bentís Fort staging operations and stifling trade. The Colorado Gold Rush brought more people, land was destroyed and bison were slaughtered. Soon after, white settlers carrying cholera started an 1847 epidemic that decimated the Native population. Bentís friends, customers and business were gone as well as his wife, Owl Woman, who died. He burned the Fort in 1849, moved westward and built another Trading Post.
There he would play a central role in the Indian Wars as a negotiator and translator. His two sons, George and Robert, would be a part of the 1864 Massacre at nearby Sand Creek. Robert was forced at gunpoint to lead the U.S. Troops to the Cheyenne and Arapahoe Village where his brother was living. Neither was among the 150 slaughtered by Col. Chivington, but George would become the primary source in retelling this horrifying American incident.
CROWDS (7/10)
It is so nice to see a large crowd of people visiting an out of the way historical gem.
EASE OF USE/ACCESS (1/5)
Bentís Old Fort NHS is located along Colorado Route 194, eight miles east of La Junta and 15 mile west of Las Animas. The largest nearby city is Pueblo, 70 miles to the west along U.S. Route 50.
CONCESSIONS/BOOKSTORE (5/5)
A good selection of books coupled with an excellent array of Bentís Old Fort Trading Post goods. We spent a good deal of time perusing the pottery, dried grasses, spices, wool blankets, cast iron cutlery, beads and soaps. Nearly every product the Ranger showed us in the reconstructed Trading Post was on sale at the bookstore.
COSTS (3/5)
The Site cost $3 per adult, $2 for children between ages 6 and 12. Entry is free with the National Parks Pass.
RANGER/GUIDE TO TOURIST RATIO (5/5)
We arrived to the Visitor Center/Bookstore at 11:40 a.m. on a Saturday to learn that weekend tours start at 11 and 1. We would have to wait for a guided tour. ĎNo problem. There is a lot to seeí, we thought, Ďletís just walk to the Fortí. To our surprise, a tour, led by a period dressed Ranger was about to begin. While we were still on the tour, at about 12:30, a different costumed Ranger started yet another Tour. Because there were so many tourists at Bentís the Ranger doubled up their tour output and probably skipped their lunch break. We were very thankful.
TOURS/CLASSES (8/10)
Öbecause our Tour was superb. Our Ranger, dressed like a western fur trader in buckskin pants, carefully guided us through each of the Trading Postís rooms. His explanations were relaxed, slow and to the point. He took time to answer questions with in depth responses. We learned a lot.
FUN (7/10)
Who wouldnít enjoy climbing around a fort? We were having a great time before we even got to the billiards room. That was just icing on the cake. Things got better when we were left to explore on our own and Michael found the entrance to the animal portion of the Fort. What are peacocks doing here? We stayed around the horses, chickens and more elaborately feathered fowl, then went out to explore more. Nothing was off limits. And at the end of it all, our Ranger was resting in the shade, waiting for his next tour, ready to answer all of our additional questions.
WOULD WE RECOMMEND? (7/10)
You bet. Days like this make us giddy. One can never tell which Park areas are going to rub us the right way. Driving far from cities and accommodations can often feel like a gamble. Bentís Old Fort NHS was more than worth the trek.
The reconstruction is impeccable; the grounds lovely, the bookstore chock full of neat things, the Rangers ready for all of your questions, each with their own style. The Fort was packed with people, just as eager to peek in windows and around corners as us. We didnít see an unhappy face in the bunch.
TOTAL 57/80
USA-C2C.com is an independent website, not affiliated in any way with the National Park Service, the National Parks Foundation or any of their partners.
(c) copyright 2003-2007
No photos or text can be copied from this site without written permission.