Road Trip Tips:
Packing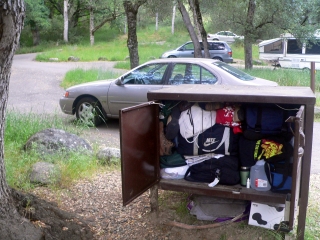 When we were preparing for the USA-C2C trip, we consulted numerous checklists enumerating what to pack and what to leave behind. None of them really fit our journey.
We made a rule that if it didnít fit in the trunk of the ĎTima, it wasnít coming along. If it wasnít wash and wear, it wasnít getting worn. If we could imagine our life without it, it wasnít an essential item.
Even with these guidelines, we packed WAY TOO MANY clothes and too few camping essentials. We packed well for long-distance hikes and days in the backcountry, but completely ignored the wonderful possibility of car camping and how luxurious camping gear can be when you are not hauling it on your back. We are making specific reference to our two-burner Coleman stove here.
We knew our first few months would be in populated east coast cities and that camping would be minimal. We also knew that we would probably need to reassess our supplies after a month or two on the road. So we built a stop back in Harrisburg into the trip. We dumped at least 50% of our clothes and consolidated from 2 large duffle bags down to one. We could have shed more.
We also knew we would be collecting a large amount of memorabilia and written material along the way. We tried to keep this to a minimum, but NPS park brochures and magnets do add up. We made it a point to send a box home (book rate or parcel post) every few months.
Rather than admit to you the things we took that we never should have and the items that we lived without for far too long, we are going to share with you our Perfect Packing List. If we had to do it all over again (and we hope that we will), these are the items that we would not leave home without.
The Perfect Packing List is Coming Soon!
We think this list works well for ANY trip of ANY duration. We have separated the camping items in case thatís not your thing.
Have some of your own travel tips to share? We know you do! Go here and tell us. If we add your tip to www.usa-c2c.com, we'll send you a cool USA-C2C long sleeve T-shirt!
USA-C2C.com is an independent website, not affiliated in any way with the National Park Service, the National Parks Foundation or any of their partners.
(c) copyright 2003-2007
No photos or text can be copied from this site without written permission.