Road Trip Tips:
Sleeping
Essential Items:

• Coupon Books from Welcome Centers
• AAA Membership
Would you think any less of us if we told you we probably only slept outside for a third of our trip? Access to the internet, books of coupons, AAA membership and the kindness of friends and family ensured that none of our nights were spent huddled along the road for warmth.
Camping
If a National Park site owned and operated its own campground, we tried to stay there. With very, very few exceptions, NPS campsites are clean, safe and comfortable. While we prefer first come first served options, you can reserve camping spots at many NPS sites ahead of time here.
We did not stay at free or unsupervised campsites. This was a personal decision. Both the National Forest Service and BFO have spaces across the country where you can drive or hike in and camp without costs. We chose not to use them because nearly all of our earthly possessions were with us in the 'Tima and we wanted the added sense of security that a gate or campground host would provide. We also know plenty of folks that swear by these free resources.
In addition to car camping at NPS campsites, we spent time in the backcountry of National Parks like Isle Royale, Zion, Channel Islands and the Grand Canyon. Click on the links to read about some of the most memorable moments of the trip.
When we weren't sleeping under the stars or catching up with old friends, we were on an exciting hunt for budget accommodations in hotels, motels, motor lodges and beds and breakfasts. Once we got the hang of this, it was pretty fun. Here are some of our favorite tricks:
Go Online. We are frequent users of the "Name Your Own Price" option at www.priceline.com. This allows you to choose a city and quality level of hotel you want to stay in, and place a bid for a room. If you bid well, you can save hundreds of dollars a night. Here's how you bid well:
Go to www.biddingfortravel.com. This online bulletin board lists winning bids and bidding strategies for every location in the United States and then some. Not only can you make an informed bid, you can usually calculate which hotel will accept your offer using the history of successful bids and list of hotels that people have "won."
There are other online communities that offer similar information, but we found Bidding for Travel the most comprehensive and easiest to navigate.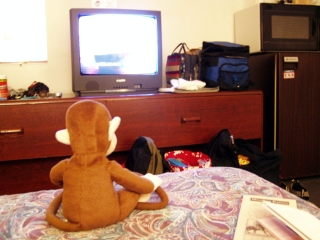 Technically, you are only supposed to bid at www.priceline.com once every 24 hours. There are ways around that. Be sure to go to www.biddingfortravel.com and read more before you Priceline for a hotel. Hotels are non-refundable, non-transferable and non-changeable even if the reservation is not used.
We usually waited until the last possible minute to Priceline a hotel for the night. If you'd rather not fly by the seat of your pants, you can make a hotel reservation on Priceline months in advance.
While Priceline has an extensive network of hotels, there are not bidding opportunities in every city. We also used www.expedia.com and www.hotels.com. Not so much to reserve rooms, but to see average costs and what hotels were available or sold out in an area.
Don't forget UPromise. Remember that rewards program we told you about in Road Trip Tips for Filling Up? Priceline, Expedia and Hotels.com are UPromise partners and will earn you a percentage of your purchase back to use towards student loans. Go to www.upromise.com and check it out.
Get those coupons! You know those racks of free, cheaply-printed magazines next to the bathrooms at highway rest stops? Grab them! These little smudgy newsprint pages are chock full of hotel bargains specially priced for weary travelers walking in without a reservation. Great to have when online options don't work. Be careful, though. Read the fine print to be sure your coupon is valid for the night you want it. We also recommend driving past two or three hotels/motels in a town to be sure you are comfortable with the look and location of the one you finally choose.
Ask to see the rooms. Not all $39.95 mom-n-pop motel rooms are created equal. One may offer a sticky sink and bed wrapped in plastic while the one right across the street welcomes you with a fridge and microwave, comfy clean sheets and, gasp, full cable! It may take a few more minutes of time, but why not shop around for the best night's rest? Is that a jingle for a mattress company? It also doesn't hurt to mention competitor's prices to get a better deal for yourself.
Safety First! Sure, we all want to save a few bucks. But if there is an uneasy feeling forming in your stomach as you unpack the car; it is probably for a good reason. Or you simply ate too many free nachos at Happy Hour.
Should you come across something that makes you feel unsafe, trust your instincts and find someplace else to be. You know you won't sleep a wink anyway.
Don't be afraid to ask for the deepest discount possible. Don't assume that the AAA rate is the best a motel can give you. Don't think just because you have a coupon, it is cheaper than the walk-in specials a hotel might be offering. You have to ask.
Some nights, a tired Gab would walk into a hotel, state how much cash we had in our pockets and how much of it we could afford to spend on a room. Amazingly, when a front desk couldn't help us, they almost always pointed us to another place for accommodations that could.
Have some of your own travel tips to share? We know you do! Go here and tell us. If we add your tip to www.usa-c2c.com, we'll send you a cool USA-C2C long sleeve T-shirt!
USA-C2C.com is an independent website, not affiliated in any way with the National Park Service, the National Parks Foundation or any of their partners.
(c) copyright 2003-2007
No photos or text can be copied from this site without written permission.