Road Trip Tips:
Eating




Essential Items:


•Coffee mugs
•Nalgene water bottles
•Enough dried goods (like pasta or rice) for at least one night camping
•Rewards cards and frequent buyer cards for every grocery store imaginable




While we tried to stay on a tight budget during our two years on the road, we definitely did not go hungry. Here are some things we learned:

Always have a stash of snacks. Sometimes after you settle into your hotel room, you are just too tired to figure out where you want to eat. Sometimes affordable options are not nearby. Sometimes, all restaurants close before you have a chance to get there. Darn you, Blanding, Utah!

Nuts, bagels, dried fruit, energy bars like ClifBars or whatever you pick up from the Hampton Inn free breakfast buffet are good options. Try to keep your snacks portable and goo-free.

Keep your eyes open for free food, but only take what you can use. Do you really need another pack of taco bell hot sauce? We found free food at parades, street fairs, grocery stores and even at National Park sites on special occasions. Gab never met a sample she didn't like.

Water, water, everywhere; Make sure you have some to drink. We kept two nalgene bottles filled at all times. We felt even better having an extra gallon of spring water as back up. Not all campsites have potable water. Not all hotel rooms have sinks you want to drink from. Running out of water is the suckiest thing ever.
"Asking the locals" doesn't always work. While we have gotten some great tips from people we have met on the road, you would be amazed at how many folks at front desks have pointed us to Applebee's, T.G.I.Friday's and other chain restaurants as dining suggestions. Now, we have no beef with these places and sometimes they are the only option. But if there is a local alternative, we'll spend our money there.
Bartenders and servers are the exception to this rule. They know the score and if you are nice to them, they will tell you the best places to be.
Check the local papers. Nearly every city has at least one free weekly paper or tabloid. And these publications just love to hand out awards for the best of this and the best of that. Not only do these pages make choosing dinner options easier, they are fantastic campfire starters. Be sure to grab one off the street or when you get your morning coffee. If you can't find a free weekly, a quick google search for "best of" and the city you are in often gets you the same information.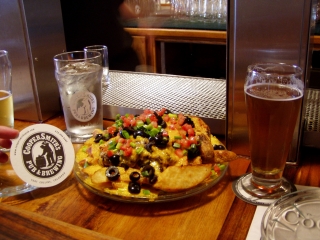 Happy hour is your friend. Drink specials are great. Free food, half price appetizers or early bird dinner specials are better.
We tried to make a note of some of the best places for cheap eats across the country. We will be adding our list in the near future.
Have some of your own travel tips to share? We know you do! Go here and tell us. If we add your tip to www.usa-c2c.com, we'll send you a cool USA-C2C long sleeve T-shirt!
USA-C2C.com is an independent website, not affiliated in any way with the National Park Service, the National Parks Foundation or any of their partners.
(c) copyright 2003-2007
No photos or text can be copied from this site without written permission.