Where are you going? Why are you going? How will you afford it? Where will you sleep? How will you get there? How will you take everything you need? What will you do with the things you leave behind?
These are some questions you might get when you mention you're going on a road trip, particularly a long one.
Or as our friend Amy put it bluntly, "But Gabby, how will you LIVE?"
If your mom is like Gab's, there are other important questions:
Where will you go to the bathroom?
How will I know you are safe?
If your mom is like Michael's, get ready for these too:
Is there room in the back seat?
Can I come with you?
While we don't have answers for ALL of the questions above, we do hope that we can share some road trip tips with you that will make planning and taking a trip of any duration easier and more affordable.
Road Trip Tips for...
Use the drop down menu to see what we did (and what we should have done) in the areas of packing, driving, eating, sleeping, filling up, hiking and getting along.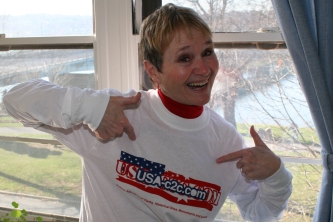 Have some of your own travel tips to share? We know you do! Use the form below to tell us.
If we add your tip to www.usa-c2c.com, we'll send you this cool USA-C2C long sleeve T-shirt!
USA-C2C.com is an independent website, not affiliated in any way with the National Park Service, the National Parks Foundation or any of their partners.
(c) copyright 2003-2007
No photos or text can be copied from this site without written permission.