Everglades National Park (Gulf Coast)
near Everglades City, Fla.
Visited: January 4, 2005
NPS Site Visited: 133 of 353
NPS Website; Local Website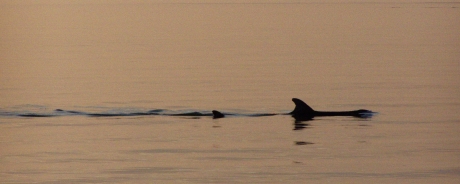 WHAT IS IT?
At 1.5 million acres, Everglades National Park is the largest subtropical wilderness in the United States. This review covers the northwestern portion of the Park; the area serviced by the Gulf Coast Visitor Center.
BEAUTY (8/10)
There are two routes through the northwestern Everglades: 1) a narrow inland waterway that winds through the impenetrable mangroves and 2) one that skirts the mangroves and follows Florida's Gulf Coast.
The inland route is mangrove monotony. The dirty brackish water never raises to levels more than five feet and the horizon stays perpetually level. Ospreys hover and shriek at every turn, wood storks fly overhead and egrets patrol the ground. We expected to paddle next to alligators but left disappointed; none appeared during our three-day canoe trip.
The coastal keys are tiny, white sand, prototypical deserted islands noted by gargantuan and intricate seashells, resourceful raccoons and porpoises diving their way through the gentle waves. We enjoyed a perfect pastel-colored Florida sunset while flocks of white ibises flew in a V-shaped formation overhead.
The route from the Keys through the Ten Thousand Islands and back to Everglades City is like being in a giant maze. The "Islands" are indistinguishable mangrove entities. Tides change the shallow waters' navigability and create patterns and channels that differ from the published charts. Even with a map, navigation is impossible; everything looks the same. We managed to find our way home but not before paddling within yards of a perched bald eagle.
HISTORIC SIGNIFICANCE (4/10)
South Florida is a very young land mass, appearing anywhere from 6,000 to 8,000 years ago, a veritable newborn. Native Americans are thought to have crossed the Alaskan land bridge over 10,000 years ago, predating the Everglades. Since their creation, the shallow Everglades slowly meandered on its way to the Florida Bay. Human interaction was limited to a few Indian tribes until the turn of the century when full-scale settlement began in South Florida.
Since then, humans have drained the Everglades, disrupted and redistributed the water flow with canals, dumped sugar cane runoff and untold other waste products into the "River of Grass" and demolished and filled portions for development. The Everglades are in critical condition and there are no plausible solutions, only stopgap measures. Everglades NP is our most endangered National Park.
CROWDS (7/10)
Backcountry permits are issued up to 24 hours before departure. Rangers recommend getting to the permit desk early since all sites are first come, first served and can fill quickly. Backcountry campsites are limited, but there were still several options available when we inquired.
We had planned for excess people because of the holiday season and even some gators since we are in the Everglades, but we had no idea raccoons and water rats were considerations when preparing for our canoe trip. When we returned to the VC a few days later with our newly purchased hard-sided container and duct tape, we had even less of a problem securing the campsites we wanted.
Four other campers shared the chickee where we camped the first night. Space was tight on the two raised wooden platforms, but our fellow paddlers were pleasant and seemed as equally vexed by the winds, tide charts and sameness of the landscape as we were. We liked them.
Four other couples pitched their tents at Pavilion Key on day two. The stretch of sandy beach was long enough to leave ample room between all of us, giving us some privacy in an otherwise exposed environment. The noises we heard at night and the footprints we spied in the morning made us thankful we took an extra day to raccoon-proof our belongings.
Canoes and kayaks share the waterways with fishermen and motorboats at Everglades NP. Unlike our time at Voyageurs NP, where we were certain our canoe would tip with each speeding sportsman, fellow boaters at the Everglades seem to move at a slower, friendlier pace and didn't affect our experience at all.
EASE OF USE/ACCESS (1/5)
This portion of the Everglades is completely water-based. You cannot go out there without a boat. Canoes and kayaks are available for rent. Boat tours leave often from the Visitor Center dock. The Visitor Center is about 40 miles east of Naples in Everglades City. Everglades City is located on Florida Route 29 about eight miles south of the Tamiami Trail.
CONCESSIONS/BOOKSTORE (3/5)
Consisting of two shelves opposite the backcountry permit desk, the bookstore is small but we couldn't think of what else we might need. If you skip the boat tour and decide to venture into the Everglades on your own, do not leave without purchasing the water resistant Everglades nautical map. Souvenir items, postcards and some resort-priced beverages are available at the small gift shop/convenience store downstairs.
COSTS (1/5)
There is no park entry collected at the Gulf Coast VC. This portion of the Park is water-based so you need to bring a boat, rent a boat or pay for a boat tour.
Do it yourself charges are as follows:
$5 for 7-day boat launch fee (motorized)
$3 for 7-day boat launch fee (non-motorized)
$10 for backcountry permit processing fee
$2 per person per night backcountry camping fee
canoe rentals range anywhere from $25 -$40 per day
$19.88 (tax incl.) for Everglades nautical map

An independent concessionaire located on the first floor of the Visitor Center runs two boat tours that leave the docks hourly:
Ten Thousand Islands Tour - $21 per adult, $11 per child, One hour 30 minutes in length
Mangrove Wilderness Tour - $35 per adult, $17.50 per child, One hour 45 minutes in length
RANGER/GUIDE TO TOURIST RATIO (4/5)
We entered the VC on three different occasions and met with at least four different Rangers. One was even willing to answer a question while on his way to the bathroom. Michael says thanks and sorry.
TOURS/CLASSES (7/10)
The Gulf Coast VC is small, existing more for issuing permits than exhibit-based education. Nonetheless, a great many panels are stuffed in the small area. A touch me table shows you the immensity of manatee ribs.
Rangers give a half hour talk everyday at 1:00 and give 4-hour long canoe explorations three days a week. Bring your own canoe or rent one.
We did not purchase a Boat Tour. That would have been a bit redundant. We saw a few leave. They looked crowded despite their amazing frequency.
FUN (7/10)
Our time in the Gulf Coast portion of Everglades NP was challenging. Vexing tide charts, shallow water, unpredictable offshore winds, pesky thieving raccoons, water rat prints in the morning right next to our tent (aaaaaah!) and 13 miles a day of paddling through repetitive landscape. We argued a lot.
The lows were balanced by amazing highs. Once we stopped paddling, our prospects improved immeasurably. The Everglades wilderness is a mysterious and wonderful place. We camped along a Gulf Coast beach, watched the sunset by ourselves and collected shells unlike any we had ever seen along any shore. Once the sun went down the absolute blackness was interrupted only by droning wave crashes and snorting porpoises. Our night spent in the mangroves was even better, the sounds completely unknown. We camped at the Sunday Bay chickee; a raised wooden platform tucked into a small mangrove inlet. We sat up in our tent for hours trying to figure out the impossible things occurring in the near vicinity. Herons squawked and mullets jumped endlessly but other things we could not figure out.
We know this. Something definitely died. We heard water splash, high-pitched shrieks, wings flapping, and some deep growls. Was it an alligator (do they growl) or maybe a bobcat or Florida panther (how would they get into and around the mangroves)? We asked a Ranger what it was. "Could have been anything. It is the Everglades."
WOULD WE RECOMMEND? (7/10)
It is true, we did argue a lot out on the water. We were disappointed by our alligator count: 0 and a little unnerved by evening marauders on the beach. Paddling is tiring and it took about a day to lose our sea legs and feelings of slight nausea. So those are the negatives.
The plusses: spending the night on a chickee is a very neat experience, as is camping on what feels like your own island. We lost count of egrets, herons, storks, pelicans and porpoises. There is a reason why thousands of amateur artists and photographers (ourselves included) try to capture the pinks, oranges and pastels of the Florida sun.
There are other options, other than a 3-day independent journey into the maze of mangroves. Those options are affordable and frequent. A Ranger leads at least one boat trip each day. If water-bound vessels aren't your thing, the Gulf Coast VC might feel a little limiting. Don't worry, there are more terrestrial activities further down the road at the Shark Valley VC.
TOTAL 49/80
USA-C2C.com is an independent website, not affiliated in any way with the National Park Service, the National Parks Foundation or any of their partners.
(c) copyright 2003-2007
No photos or text can be copied from this site without written permission.