George Washington Memorial Parkway
northern Virginia, southern Maryland and Northwest Washington D.C.
Visited: May 4, 2006
NPS Site Visited: 286 of 353
NPS Website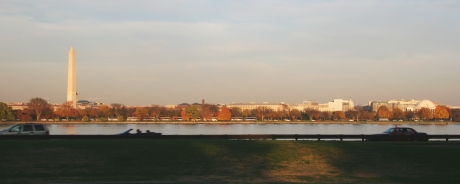 WHAT IS IT?

The George Washington MEM PKWY National Park Site consists of three roads:
1) The 25-mile stretch of the George Washington MEM PKWY that travels solely in northern Virginia from D.C. Beltway Exit 14 in the north all the way southward to Mount Vernon, the stately plantation home of George Washington;
2) The 7-mile segment of the Clara Barton Parkway from D.C. Beltway Exit 41 until the Chain Bridge; and
3) The less-than-a-mile-long Spout Run Parkway, a gorgeous spur of the GW Parkway that takes you to U.S. Route 29 and is a great place to turn around on the GW if you've missed your exit.
As a road, the George Washington MEM PKWY is both a dream and a nightmare. First, the dreamy bits.
Positives:
1) The views. From the D.C. Beltway until the Key Bridge, the road follows the Potomac River Gorge's cliff edge. The Potomac looks beautiful down below. Trees line both sides of the road, grass grows in the median strips, streams and tiny waterfalls appear out of nowhere and northbound pulloffs allow for stunning views of Georgetown. Once you pass the Key Bridge, D.C.'s familiar neo-classical presidential memorials loom majestically while the Pentagon stands strong on the Parkway's other side. Alexandria and the Mount Vernon Trail offer colonial Virginian architectural and antiqueing charm.
Michael's dad and countless others swoon at the thought of the Parkway. "It's so beautiful. It's so relaxing. It's so nice." The views offer ample proof of their road crush.
2) There are no tractor trailers allowed on the Parkway. Enough said.
3) The flow of traffic does not stop until Alexandria despite the low (35-45 mph) speed limit.
4) No road in the United States has so many top flight tourist attractions within less than a 3-mile straight line.

5) For non-locals, the Parkway really is the easiest and fastest way into Georgetown and Washington, D.C.'s tourist areas. Michael has tried them all many times.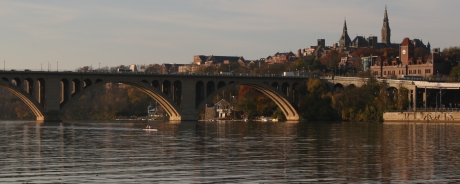 Negatives:
1) From the Key Bridge to Ronald Reagan airport the Parkway weaves in and out of numerous roads like a DNA helix. Michael never knows which lane to be in, cars who do know where they are going whiz past, there is no slow lane or fast lane just the lane you need to be in and if you miss your weaving exit point or take the wrong turn you'll end up D.C. amidst even more traffic. Even if you have a GPS system, it won't help; the weaving turns occur too quickly and too often. Super quick eyes are necessity.
Michael has been lost on this road more times than he would like to mention.
2) The scenic vista turnoffs and Park Site parking lot turnoffs are usually accessible only from one side of the road. For example, if you are traveling southward, you are not getting into the Theodore Roosevelt Island parking lot; it only has a northbound entry point.

3) The Parkway was originally built as a weekend excursion road for D.C. residents. It wasn't supposed to become a major city artery. The pace, while slow, is usually manic.
4) The Parkway's sinewy curves and narrow lanes add to the area's beauty but can make for stressful driving.
Not only is the George Washington MEM PKWY a road, it is also an administrative entity. "What" you say, "that sure was an awkward segue." We are just getting you used to driving on the GW.
The NPS operates dozens of parks under the umbrella of the GW MEM PKWY. Some are official National Park Sites, some are privately-run parks, some are publicly-run by a non-NPS entity and some have seemingly no connection to the Parkway but appear on its brochure.
Here is a list of the GWMP-related NPS parks and links (where applicable) to our reviews.
GWMP Sites from north to south:
Clara Barton Parkway (Maryland side)
C&O Canal NHP The NHP is not a part of the GWMP administratively but its lands do border the Clara Barton PKWY
Potomac Heritage NHT
Clara Barton NHS and Glen Echo Park
George Washington Memorial Parkway (Virginia side)
Great Falls Park. Great Falls Park is an administrative part of the GWMP but its actual borders are north of the Parkway's source.
Turkey Run Park. This is the Site of GWMP park headquarters and, rumor has it, home to gobs of National Park Passport stamps.
Potomac Heritage NHT
Claude Moore Colonial Farm
Fort Marcy
Mount Vernon Trail
Theodore Roosevelt Island
U.S. Marine Corps Memorial
Netherlands Carillon
Arlington House
Arlington National Cemetery
LBJ Memorial Grove on the Potomac
Fort Hunt Park
Mount Vernon. Not an NPS-site but so famous that we had to mention it. Here is their website.
USA-C2C.com is an independent website, not affiliated in any way with the National Park Service, the National Parks Foundation or any of their partners.
(c) copyright 2003-2007
No photos or text can be copied from this site without written permission.