Best of May and June 2006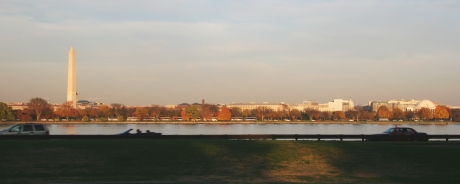 We're Baa-ack! Yes it's been a while since the last compilation of all that's good and/or unusual from our travels. But here we are. This edition of our Best Ofs includes highlights from Washington D.C., Virginia, Maryland, West Virginia and of course, PA.Best Weather Day – Hard to choose, but probably May 4th, in and around Washington D.C. We had nothing but sunshine and pleasant warmth, a perfect day to play hooky from work.
Best Opportunity to Test Michael's "Jacket of the Year" (Worst Weather Day)
June 1st. We were fully prepared to camp along the Youghiogheny River, but 90+ degree weather, near 100% humidity and ominous skies made us think better of it. We had just finished our meal in Morgantown, W. Va. when the heavens opened and lightning blazed across the sky. We were soaked in the short distance between the car and the entrance to our hotel room, where we watched the nightlong downpour.
Thank God We're Not Here Next Month Award
Washington D.C. The humidity was just starting to seep into our pores as we tried to navigate the Parkways and walked through Georgetown. Michael's years in D.C. tell him that D.C. is one of the last places one wants to be in July or August. (But wait a minute, we will be here in July and August…
Most Effective Billboard Slogan
"Free Beer Fridays", Georgia Street BBQ, Smithfield, Pa.
Most Interesting Sign
"National Chainsaw Carving Contest, June 15th," Somerset County, Pa.
Strangest Endorsement
Tie
Nate Dogg's Beer to Go, along I-40 in Fayette County, Pa. and the Samuel Hagar Post of the American Legion, Port Marion, Pa.
Most Talked About Natural Phenomenon
The rising Susquehanna River. Days and days of thunderstorms the last week in June freaked out those in flood-prone areas of Harrisburg, Pa. The first two days of Harrisburg's American Music Fest were prematurely cancelled. City Island went underwater. The Harrisburg Senators were rerouted to their opponent's field AND the Beach Boys concert was repositioned to take place right in front of our windows. We think Harrisburg may have overreacted, but better safe than sorry, we suppose.
Most Beautiful View
Great Falls, whether that's the Maryland side or the Virginia side will depend upon which Sedor you ask.
Ugliest Park Site Surroundings
Claude Moore Colonial Farm (part of the George Washington Memorial Parkway), McLean, Va. Colonial Farm Road is also the entrance road to the George Bush Center for Intelligence a/k/a CIA Headquarters. The CIA land forms the Park's heavily guarded eastern border. The Farm Visitor Center is a non-descript and poorly marked mobile classroom unit. A flimsy red and white homemade sign labeled Colonial Farm should point you into the gravel parking lot. (We missed the sign and continued to an indomitable CIA entrance a few hundred yards down the road where we turned around).
Thankfully, the Colonial Farm is positioned so that once through its entrance gates, the high fences, paved roads and security check points of the modern world are undetectable.
Biggest Disappointment
Thomas Stone NHS, the only NPS site dedicated to a signer of the Declaration of Independence for no other reason other than he was a signer. Whoop de doo.
Unsolved Mystery
How do we get to Theodore Roosevelt Island from the George Washington Parkway!?!?
Mystery Solved
We leave the car at our friends' apartment, take the Metro to Rosslyn and walk. That's the plan for the next jaunt down to D.C.
Most Gluttonous Day
Did we really need a giant soft pretzel AND a BBQ sandwich AND a BBQ platter at Camden Yards? Well, yes.
Cheapest Ballgame Ticket
$17 for ridiculously good seats at Camden Yards, Baltimore, Md. We sat in the first row of the right field bleachers for Kevin Thompson's debut as a Yankee and a major leaguer. He is now Gab's new favorite Yankee.
Most Expensive Ballgame Ticket
$20 for mid-level seats at Yankee Stadium, the Bronx, NYC. Sure, the difference in ticket price is minimal. Add parking, lunch and a few beers at Yankee Stadium prices and we can see why Yankee's fans make frequent trips to Baltimore.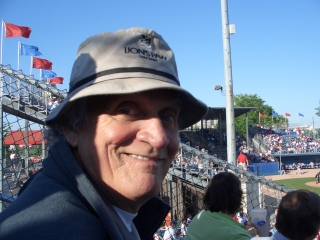 Best Sporting Experience
Wait! We almost forgot! We got into a Harrisburg Senators Game for FREE. Gab's cousin was in town as an umpire and got us tickets to a Saturday game on City Island. Even better, we persuaded Gab's dad to come along. This was his first trip to the Senators Stadium since they added bleachers (that's a looong time ago). He had such a good time we are hoping he joins us more often. What's better than hearing an old timer yell out "that's a can o' corn!" every time an easy out pops into the outfield?
Best Short Hike
Along the boardwalks from the Great Falls Tavern and Museum to the Maryland side of the Great Falls of the Potomac. Great blue herons flew overhead, the Falls roared in the distance and everyone on the walk was celebrating the glorious spring day.
Highest Price for Gas
$2.88/gal, Citgo, Accokeek, Md.
Lowest Price for Gas
$2.46/gal, Giant, Mechanicsburg, Pa. Note: accumulated points on our Giant Bonus Card got us a 30 cent a gallon savings. Fill 'er up!
Most Out of the Way Site
Friendship Hill NHS. Poor Mrs. Gallatin. This young socialite was not the biggest fan of New Geneva, Pa.'s rustic setting.
Best Ballpark Cuisine
Boog's BBQ at Camden Yards
Best Bartender and Best Pizza
Scotty and pizza at the Subway Café, Herr Street, Harrisburg, Pa. are shoe-ins for these categories any time we are in Harrisburg.
Best Waiter/Waitress
Summer, on the deck at the West Virginia Brewing Company, Morgantown, W.Va. This sweet, dreadlocked darling steered us towards the best sandwiches, hooked us up with freshly delivered fries and gave a frank explanation of why there were no longer any beer specials – "you see, we are just starting to distribute and we need to make some money somewhere." Fair enough.
Best Tour Guide
The NPS Ranger at the Clara Barton NHS. Her tour group consisted of a German businessman and us. Questions ranged from wartime logistics to internal workings of the Red Cross to international treaties and agreements both past and present. She tried to address each inquiry as thoroughly and neutrally as possible, never giving a hint of her own political leanings or preferences. A true professional.
Most Helpful Roadside Stop
The Youghiogheny Overlook Maryland VC on 68 towards Cumberland, Md. Finally, a chance to restock our supply of maps and hotel coupon books. Free wildflower seed mix!
Worst Acting in a National Park Service Film
The disemboweled head of Mr. Albert Gallatin at Friendship Hill NHS. The Ranger explained that there used to be a full bodied hologram projected in the middle of the VC lobby, but constant malfunctions shrunk this ambitious project down to its present state – a video of the head of the hologram.
Most Unexpected Local Pronunciation
The Youghiogheny (yuck-kah-GAY-nee) River, Western Pa. Actually, its not really unexpected since we are from P.A.
Best Fast Food
Regular Roast Beef Sandwich, Roy Rogers, Frederick, Md. There are no more Roys in Harrisburg so a regular RB and a red birch beer en route to D.C. are special treats.
Best Smelling Factory
Stroehmann's Pennsylvania Dutch Bakers, Paxton Street, Harrisburg, Pa. This has been the benchmark for all other best smelling factories. It doesn't smell all the time. In fact, the aroma of baking bread wafts onto the highway when you least expect it.
Best American Kabuki
Dizzy Rascal, he's a dizzy Rascal!
Largest Measuring Device
The canal water gauge painted right on the side of the Cushwa Warehouse, C&O Canal, Williamsport, Md.
Worst Driving Experience
Missing our exit at least three times on the George Washington Memorial Parkway. In our defense, the LBJ Memorial Grove can only be reached going northbound. The good news is we landed right in front of the Netherlands Carillon and the USMC Memorial – 2 other NPS sites on our list to visit.
Biggest Stretch
Trying to write a "Best of" for two months where we have seen more sunrises on the Discovery Channel than we have from a tent. We will be straying a little further from home next month. Stay tuned as we return to New England in July. New Hampshire and Vermont, here we come!
Harrisburg, PA • Frederick, MD • Glen Echo, MD • McLean, VA • Tysons Corner, VA • Arlington, VA • Rosslyn, VA • Washington, DC • Oxon Hill, MD • Waldorf, MD • La Plata, MD • Port Tobacco, MD • Accokeek, MD • Washington DC • Harrisburg, PA • Somerset, PA • Farmington, PA • New Geneva, PA • Morgantown, WV • Cumberland, MD • Hancock, MD • Williamsport, MD • Sharpsburg, MD • Towson, MD • Baltimore, MD •
Clara Barton NHS • Glen Echo Park • Clara Barton Parkway • George Washington MEM PKWY • Great Falls Tavern and Museum • Claude Moore Colonial Farm • Great Falls Park • Wolf Trap Farm and Pavilion • Thomas Stone NHS • Piscataway Park • National Colonial Farm • Fort Washington • Fort Foote • Oxon Hill • Marine Corps War Memorial • Netherlands Carillon • Old Stone House • C&O Canal NHP • Fort Necessity NB • Friendship Hill NHS • C&O Canal NHP • Antietam NB • Hampton NHS • Fort McHenry NHS •
USA-C2C.com is an independent website, not affiliated in any way with the National Park Service, the National Parks Foundation or any of their partners.
(c) copyright 2003-2007
No photos or text can be copied from this site without written permission.