Mary McLeod Bethune Council House National Historic Site
Part of National Capital Parks - East
Washington, D.C.
Visited: November 11, 2006
NPS Site Visited: 330 of 353
NPS Website
WHAT IS IT?
Stately Victorian-era home of Mary McLeod Bethune and longtime headquarters of the organization she founded, the National Council of Negro Women.
BEAUTY (4/10)
This three-story Second Empire Victorian house blends benignly with the other townhouses along Vermont Avenue. Its only distinction is a cream-colored sign standing next to the tiled walkway leading to its wrought iron door. You might walk right past the Council House if you are busy admiring the other manicured gardens or doorways in the neighborhood.
A 1966 fire gutted the interior of the Council House and forced the NCNW to find a new home on Connecticut Avenue for eleven years. Once the Site was placed on D.C. Register of Historic Places, NCNW was able to raise funds and begin an extensive restoration. Mary McLeod's formal front parlor, where she received dignitaries and friends like Eleanor Roosevelt, and the Council's functional upstairs Conference Room were restored to their former glory before the National Park Service even stepped foot inside the building.
HISTORIC SIGNIFICANCE (6/10)
Bethune-Cookman College founder, advisor to four U.S. presidents, founding member of FDR's New Deal-era Black Cabinet, federally-appointed director of the National Youth Administration and founder of the National Council of Negro Women. This rudimentary listing of Ms. Bethune's accomplishments does not do her justice. Her pioneering work and pragmatic genius in a time of rapid political change and violent societal upheaval cannot be underestimated.
One only needs to look at the picture of the Black Cabinet on display at the Site. The 1930's-era Black Cabinet consisted of FDR's African American federal appointees, the first set of African Americans ever nominated for these prestigious positions. In their photo, Ms. Bethune is the anchor. She stands in the middle. She is the focal point. She is also the only woman. She is unmistakably in charge.
CROWDS (7/10)
Less than 10,000 tourists pass through the Council House doors every year, making this Site one of the Park Service's ten least-visited destinations. Odds are that your guided house tour will just be you and the Ranger.
The only-us crowd suited us well because we had known nothing about Ms. Bethune. The visitor dearth allowed for in-depth answers to our sometimes ignorant and sometimes probing questions. We might not have learned as much or asked such basic questions about Ms. Bethune's life had there been other tourists.
EASE OF USE/ACCESS (4/5)
The Site is located at 1318 Vermont Avenue between Thomas and Logan Circles, five blocks northwest of both the White House and the nearest D.C. Metro station, McPherson Square. The Site warns that street parking is limited and suggests mass transit.
Operating hours are Monday-Saturday 10-4. The Park's website incorrectly lists 9 a.m. as opening time. Trust us. We were there at 9:01 and the doors were locked.
CONCESSIONS/BOOKSTORE (3/5)
The small bookstore stocks a meager assortment of Bethune, local history and Women's History texts. While we did not visit the carriage house behind the main building, home of the National Archives for Black Women's History, we assume the bookstore is not representative of the scholastic treasures that might be found there.
COSTS (5/5)
The Site is free and includes a Ranger-led guided house tour.
RANGER/GUIDE TO TOURIST RATIO (4/5)
Our superb Ranger was the only staff person on site. House tour and spatial dynamics would have changed dramatically if another set of tourists had arrived during our stay.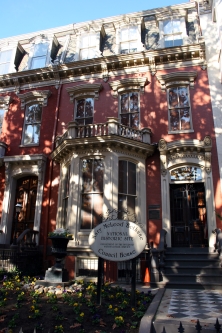 TOURS/CLASSES (9/10)
The excellent non-NPS produced video serves as a perfect introduction to the Site's little-known honoree. The video quickly convinced us that Ms. Bethune was an extraordinary person with accomplishments and a story as amazing as other more famous 20th century figures. The trailer to the video showed us it was one in a series of historical profiles; had this series introduced us to Frederick Douglass at his National Historic Site, perhaps our review and our opinion of that Site would have been higher.
Had the film ended at the ten minute mark, after Ms. Bethune founded Bethune-Cookman College in Daytona Beach, Fla. and as anecdotes told us, peacefully and cleverly fended off Ku Klux Klan attacks on her students, we would have been sold on the merits of the Site. But just as we were suitably impressed with her achievements, the video would continue to roll and another phase of her amazing life and work would unfold.
While the video was superb, this Site's highlight was its Ranger-led house tour. Our Ranger's knowledge was surpassed only by her passion and love of history. As she answered our questions, she had the casual air of someone who really knows what she is talking about and enjoys the stimulation of discussing rather than dictating interpretations of history. Her thoughtful responses set the scene for an extended discussion about the importance of archives and the value of advisory committees which we continued long after we said goodbye to the Ranger and left Logan Circle.
FUN (8/10)
Our Ranger gave us as much time as we wanted to explore the Council House and pore through the documents (some of them originals) resting on the long conference table in the second floor Conference Room. The room was restored to look as it did as the NCNW was preparing for a huge fundraiser, benefit dinner and show with the aging, yet still stunningly beautiful, Josephine Baker. We were instantly transported back in time as we tried to decipher the scribble of personal notes, phone messages and meeting minutes and visualized the stately and, frankly, physically imposing Ms. Bethune at the head of the table, directing audio traffic and planning for the visit of yet another V.I.P.
WOULD WE RECOMMEND? (?/10)
A Site that we thought would take a few minutes to survey actually kept us engrossed for almost two hours. While we thoroughly enjoyed our time spent at the Mary McLeod Bethune Council House NHS, we understand it might not hold the interest of the average D.C. tourist, particularly one carting around young kids eager to see some more marquee attractions.
TOTAL 54/80
USA-C2C.com is an independent website, not affiliated in any way with the National Park Service, the National Parks Foundation or any of their partners.
(c) copyright 2003-2007
No photos or text can be copied from this site without written permission.