Mount Rainier National Park
near Enumclaw, Wash.
Visited: July 26, 2005
NPS Site Visited: 223 of 353
NPS Website; Local Website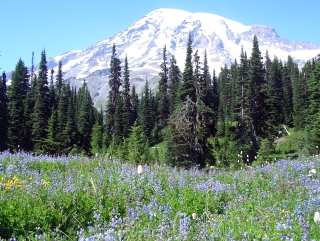 WHAT IS IT?
Standing 14,410 feet, Mount Rainier is the tallest and most imposing of the Cascade Range's volcanic peaks.
BEAUTY (10/10)
On a clear Seattle day, she hovers omnipresent in the background like a lurking flying saucer. Her base is broad, her dome a perfectly symmetrical mound. She is cloaked by a permanent haze and appears to be a dirty yellow. Only rain and mist remove her from her keen watch over the Emerald City. When the sun returns, she does too, grander than ever.
As you drive towards her, she never disappears from view; she sees in all directions. Closeness inspires awe. There she stands with stern majesty. Glaciers and snowfields encapsulate her rounded dome. She is monolithic. She is power.
Her aura changes when you get closer and bask in her shadow. The meadows are swathed in a rainbow array of wildflowers. She is now delicate. Blues, oranges, reds and yellows stretch as far as the eye can see. She remains in the background framing every picture, providing water and life to the beauty below.
Tiny dots flicker above amidst the endless fields of white. They are hikers and climbers, every day numbering in the hundreds, aiming to scale her volatile sides and achieve personal goals. But she is unconquerable. We live with this sleeping giant, on time borrowed from her. She will not be dormant forever.
HISTORIC SIGNIFICANCE (4/10)
British explorers named Mount Rainier for one of their own. Local residents have since made unsuccessful attempts at renaming the peak Mount Tahoma, its Native American moniker.
Mount Rainier became a National Park in 1899 and the first to admit cars in 1907. The National Park auto tour vacation had officially begun. The 1908 entry fee was $5 per vehicle. In almost 100 years, the fee has gone up only $5. Not too shabby.
CROWDS (8/10)
Mount Rainier easy proximity to the Seattle metropolis brings big crowds, especially in the Park's Paradise section. If you wish to avoid the throngs and still enjoy the wildflowers and stellar mountain-view hikes, then Sunrise would be a great choice. Still, the hikers at Mount Rainier were some of the friendliest and most courteous we have found in all the National Parks.
The Park has enough trails and backcountry opportunities to make seclusion a viable choice.
We took the Nisqually Vista Hike with about 40 other people. We were the youngest by far. Everyone our age had strapped on their mountaineering boots and was heading up the snowfields. Maybe next time we will act our age and make the hike to Camp Muir.
EASE OF USE/ACCESS (5/5)
Hard to believe that such a stunning and accessible wilderness mecca is within a two-hour drive for so many people. At the same time, when this volcano blows, a lot of people are going to be in trouble.
The Paradise and Sunrise sections of the Park include easy trails that take you very close to glaciers. Mt. Rainier NP's hundreds of miles of hiking trails are mostly accessible and subsequently real to the average visitor, unlike the bloated mileage numbers of so many other National Parks. The 93-mile Wonderland Trail, which people have been hiking for almost 100 years, sounds too wonderful for words.
CONCESSIONS/BOOKSTORE (3/5)
Each VC carried a small selection of books, nature guides and maps. The Henry M. Jackson Memorial Visitor Center split its offerings into two separate shops.
One store is dedicated to Mount Rainier captured in print, large framed photographs, video and DVD. The second store caters to all of your apparel and souvenir needs. Pretty standard NPS fare, with the exception of some cleverly named food products and "Ashware," plates and pottery created from Mount Rainier's more volatile neighbor, Mount St. Helens.
COSTS (3/5)
Entry is $10 per vehicle, free with the National Parks Pass. Campsites are priced affordably, ranging between $10 and $15 per night. A mountain climbing permit runs $30, rental gear will bring this cost up.
RANGER/GUIDE TO TOURIST RATIO (5/5)
Plenty of Rangers at all three Visitor Centers. Gab especially enjoyed her talks with a young female Ranger at Sunrise. The Ranger recognized Gab's B hat, she had just graduated from Brown University! She gave us great hiking advice. The next day was her day off. Her plans: climb Mount Rainier. Wow.
TOURS/CLASSES (6/10)
Our first stop in the Park was the Sunrise Visitor Center near the Northeast entrance. We made a half-hearted attempt to browse through its wildlife displays, but Mt. Rainier in all its glory was beckoning us outside. After our chat with Gab's fellow Brunonian, we skipped past the introductory panels and ran on the trails to experience the Park firsthand.
The Henry M. Jackson Memorial VC shows two films in a comfortable theatre. Its historical overview of the Site is more interesting than others we have seen, but we were still lured outside by the blooming meadows.
Mount Rainier recognizes that most of its guests have a hard time staying indoors and offers Ranger walks on a variety of subjects starting from each of its Visitor Centers. There are at least three daily strolls leaving from the Paradise and Sunrise VCs. We chose the Nisqually Vista Walk and were finally able to combine our quest for knowledge with the fresh mountain air.
FUN (9/10)
Mount Rainier NP is a wonderful day trip. It makes an even better destination for a two or three day trip. Does any circuit hike sound better than the 7-14 day, 93-mile Wonderland Trek around the mountain?
This Park, as well as our other incredible outdoor experiences in the area, made us sincerely consider relocating to Seattle. Then we remembered that we had been frolicking around live volcanoes. The floods, blizzards and high humidity of Central PA suddenly do not sound that bad.
Michael thinks Mount Rainier is going to erupt before the Seahawks or Mariners win a World Championship. Will anyone give him odds?
WOULD WE RECOMMEND? (9/10)
Wholeheartedly. Mount Rainier is an accessible mountain, free of ski lifts and full of tremendous hiking opportunities and easy scenic walks. Heavy snowfall closes the Park down to casual tourists for much of the year. We recommend coming in July so that you can experience the vibrant shades of its countless wildflowers.
TOTAL 62/80
USA-C2C.com is an independent website, not affiliated in any way with the National Park Service, the National Parks Foundation or any of their partners.
(c) copyright 2003-2007
No photos or text can be copied from this site without written permission.