Mount Rushmore National Memorial
Keystone, S.Dak.
Visited: June 26, 2004
NPS Site Visited: 59 of 353
NPS Website
WHAT IS IT?
60+ foot profiles of four American presidents carved onto the southeast side of a granite mountain.
BEAUTY (9/10)
Awe-inspiring. Sculptor Gutzon Borglum has captured the essence of his subjects: George Washington's strength and determination; Jefferson's aloofness; Roosevelt's fighting spirit; and Lincoln's pensive sadness. The dramatic granite pillars and ponderosa pine of the Black Hills provide a perfect setting. The park's recent $60 million renovation is a stunning companion piece to an already impressive memorial. The renovation highlights include marble pathways, a boardwalk that leads to the base of the mountain and a gorgeous amphitheater.
HISTORIC SIGNIFICANCE (9/10)
In the 1920's, South Dakota State Historian Doane Robinson had an idea. He wanted western heroes carved onto the sides of various Black Hills spires. His motive: Bring in Tourists. Four years later a process began to create something much grander in scale: the United States' answer to the Pyramids of Giza, an eternal remnant of our civilization. The sculpture is carved on such strong granite that it will last for thousands of years. It is our message to future generations. These are the people who have created, expanded, preserved and developed our great nation.
CROWDS (7/10)
There were thousands of people at Mount Rushmore when we visited. Our Ranger-led tour included at least 100. We had expected the worst, crowd-wise, but were pleasantly surprised. The Site is impeccably designed with numerous trails, museums and activities. We were never rushed, crowded or denied a view.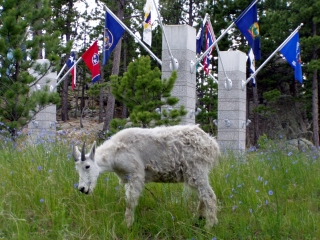 EASE OF USE/ACCESS (4/5)
Mount Rushmore N MEM is a bit out of the way, a 50-mile round trip along winding Black Hills roads from Interstate 90. The new renovation has created a completely accessible memorial. The entrance is a short walk from the five-level parking garage. The Site even offers a Braille version of the official Park brochure.
CONCESSIONS/BOOKSTORE (5/5)
There are three separate bookstores, one of which is the size of a small supermarket, that shelve a plethora of Mount Rushmore souvenirs. An incredible choice of coffee cups, magnets, T-shirts, stuffed animals, shot glasses, Black Hills Gold, Native American trinkets, sweatshirts, patches and much more. The stores were an overwhelming fun mess because their products were so cool. The book selection was quite good except for the surprisingly poor set of George Washington and Abraham Lincoln books.
COSTS (3/5)
Entering the Site itself is free, BUT parking is $8 per vehicle. As the brochure explains, "No federal funding was used for (the parking garage construction) project. Thus, federal passports such as the National Parks Pass, Golden Age, Golden Access and the Golden Eagle are not applicable for parking." Your $8 parking pass is good for one year.
RANGER/GUIDE TO TOURIST RATIO (4/5)
Even though there are hundreds of people per Ranger at Mount Rushmore, the Park Service has skillfully distributed each Ranger and leaves no guest without a professional information outlet. Guided tours of the memorial as well as talks at the Sculptors Studio start every half hour.
TOURS/CLASSES (9/10)
The Ranger-led tour was tremendous. Through the Ranger's skillful teaching, we gained awe and respect for the carvers, the sculptor and the four presidents. Michael most enjoyed the section of the tour where the group looked at the sculpture and described the character trait evident in each presidents' visage.
At the tours start, the guide was inevitably asked if Ronald Reagan would be added to the mountain. His response, "Would you paint a smile on the Mona Lisa? Gutzon Borglum wanted no one to touch his masterpiece. For that reason he used up all available rock. So, no." That's when we realized that we were looking at art just as epic and brilliant as Da Vinci's lady.
The Sculptor's Studio talk was also a great learning experience if only for the setting. The Ranger gives her lesson a few feet in front of Borglum's scale model. An in-residence working sculptor is also available nearby to answer questions about the artistic process.
The newly remodeled Museum has many wonderful displays and interactive features. We especially enjoyed the Mount Rushmore in Popular Culture video as well as the T-bar dynamite detonator whose compression coincides with a dynamite blast clip.
Don't watch the film. It was completed in 1985 and discusses nothing not already covered by either the Rangers or the museum.
FUN (8/10)
We came expecting the worst. Large crowds, high security and bad views. Michael had been to Mount Rushmore twice before and was less than impressed. Boy, were we wrong. The renovations have enhanced and dramatized the older views. The new Presidential Trail takes you right underneath the sculpture, a place we never imagined we would be able to go. What fun.
WOULD WE RECOMMEND? (10/10)
Of course, see it at least once in your lifetime. The Site is first class, a fitting tribute to our Memorial.
TOTAL 68/80
USA-C2C.com is an independent website, not affiliated in any way with the National Park Service, the National Parks Foundation or any of their partners.
(c) copyright 2003-2007
No photos or text can be copied from this site without written permission.