Best of October and November 2005

Ah October, 'tis the season for "newlyweds and nearly-deads." Retirees and honeymooners know that autumn months are just about perfect for traveling and day trips. As we try to digest our multiple Thanksgiving meals and get ready to get back on the road, we reminisce about our warm October days spent in Virginia and the Carolinas and hope that winter won't come too soon to Washington D.C., our next destination.
Miles Traveled (in Altima)
4,320 miles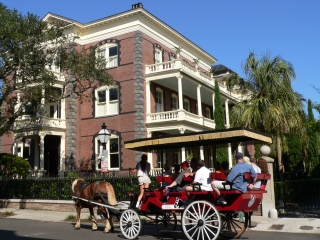 Best Weather Day
October 17-19, Charleston, S.C. Sunny and 80+ degrees. We wore shorts and T-shirts and hundreds of bikini-clad College of Charleston coeds sun-bathed in Marion Square Park.
Most Interesting Sign
"Use less gas; tow your car," Hitch World, Beckley, W.Va. Huh?
Most Interesting Roadside Attraction
"Vend a MOO." Ever get a craving for an ice cold glass of milk after midnight? We don't either, but if you lived in Blacksburg, S.C., you could hop in your car and stop at Vend-A-MOO, which is essentially a trailer the size of a small U-haul with several spigots parked alongside a commercial road. What did we ever do without a "24-hour milk service?"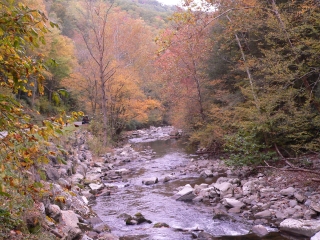 Most Talked About Natural Phenomenon
Fall colors. October in the Appalachians means the reds, yellows and oranges of changing leaves as well as the highest motel rates of the year. We consulted leaf-changing web-sites, newspaper article and unending word-of-mouth but did not see the peak colors until we returned to Harrisburg, Pa. in mid-November. An unseasonably warm fall delayed western Carolinas leafy show until later in the year than anyone could remember.
The "Thank Goodness We're Not Here Next Month" Award
All Blue Ridge Parkway Visitor Centers were closed by 5 p.m. November 1 st, even though the fall colors had barely begun. Ice from an early winter storm closed off two sections of the Parkway, forcing us to take some circuitous detours. Locals told us there is no winter maintenance on the Parkway; once winter hits for real, the "Road Closed" gates will go up until spring thaw. Good thing we got our Passport stamps!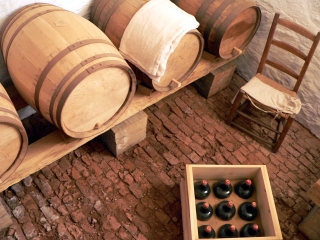 Best (non NPS) Historic Site
Monticello, Charlottesville, Va. Virginia and the Carolinas have hundreds of top-shelf historic destinations: Colonial Williamsburg, various founding father plantation homes, Jamestown, Yorktown and innumerable Revolutionary War and Civil War battle sites. Monticello, Thomas Jefferson's home, stands above them all with its pristine grounds, World Heritage Site honored architecture, quirky interior touches and impressive storytelling.
Liveliest City Center (Towns)
Chapel Hill, N.C., or perhaps Charlottesville, Va. We have a hard time deciding which of these college towns wins the prize. Both have impressive college campuses and quaint main streets filled with restaurants and shops. We wouldn't have minded 4 years in either of these towns. Charleston , S.C., Asheville, N.C. and Knoxville, Tenn. were also lots of fun.
Dullest City Center (Towns)
Spartanburg, S.C. The name says it all.
Strangest Claims to Fame
Middlesboro, Ky. is both the home of Lee Majors and the only town built inside a meteor crater.
Friendliest People
Kill Devil Hills, Outer Banks, N.C. We had very high expectations for the Outer Banks since thousands of Central Pennsylvanians vacation here every summer. What's the draw? Well besides the world class fishing and pristine national seashores, it might have something to do with the friendly and laid back welcome we felt every place we went. Locals, renters, vacationers, snow birds: very rarely have we seen all of the above co-mingle like at Kill Devil Hills. Limited off-season dining options and a karaoke machine might have had something to do with it.
Longest Day
A 399-mile drive from Chapel Hill, N.C. to Charleston S.C. via Wilmington, N.C. with one Revolutionary War Park Site ( Moore's Creek NHS) and at least 4 mugs of coffee in-between.
Most Beautiful Capitol Building
Columbia, S.C.
Most Mysterious Capitol Building
Richmond, Va. This big boy is under construction until at least 2007. Good luck getting anywhere near it.
Biggest Disappointment
Gab couldn't stop sighing as we walked through the University of North Carolina-Chapel Hill campus. Why oh why did you wait-list me, Tar Heels?
Most Unpleasant Surprise
Mosquitoes at the Pea Island National Wildlife Reserve, Outer Banks, N.C. are ruthless! Our morning birding walk came to an abrupt end when we both realized we were covered in bugs and blood. We ran back to the car and watched our bites turn into welts as we vowed not to be lured back into nature without first finding the bug spray.
The "Fancy Meeting You Here" Award
We walked into Colonial Williamsburg and Gab was shocked to hear Michael say, "Hello, I think we're related!" to a nearby volunteer. It was one of Michael's mom's cousins who had relocated to Virginia several years before. Michael recognized the name on the nametag and started up a conversation.
The "We Got Robbed!" Award
Tie
*Both Manassas NBP and Fredericksburg and Spotsylvania Counties NMP have decided to waive their entrance fees and simply charge a "user" fee to watch any of the films at their Visitor Centers. Eastern National employees explained that this made the fee "optional." We explained this made the fee a fee, since our Annual National Parks Pass covers the cost of admission but no additional park fees. We cringe whenever there is a price put on learning, no matter how small.
* And speaking of education, did you know that Duke University charges $2 for visitor parking, even on Sundays?!? One would think that the university with the 5 th largest endowment in the United States wouldn't need to nickel and dime those who want to see its campus. Don't you guys have enough money?
Best Sporting Experience
October 10. Rafting the Upper Gauley River, W.Va.
Most Scenic Drive(National Parks)
The drive to the top of Clingman's Dome, Great Smoky Mountains NP, Tenn. The dramatic changing fall colors gave way to a winter wonderland as we climbed in elevation; a freak late-October snow shower had draped the scenery with a glistening white coat.
Most Scenic Drive (Highways)
There is a reason the Blue Ridge Parkway (N.C.-Va.) is America's most famous scenic drive; it is SOOOOOOOOO beautiful.
Best Day Hike
Through the Wilderness Area of the Fredericksburg NBP. Rustling autumn leaves and a light drizzle added to the mystique of the quiet walk through the woods where thousands of Union and Confederate soldiers died in a bloody tangle of bodies and underbrush. Although we had the trail to ourselves, it hardly felt like we were alone.
Highest Price for Gas
$2.83 at the RaceWay, Fredericksburg, Va., October 6.
Lowest Price for Gas
$2.04 at the Kroger, Roanoke, Va., November 2. One mile further down the same road, we saw a $1.99 Petro price tag, the first sub-$2 rate we have seen since mid-March.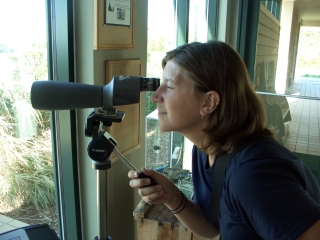 Most Out of the Way Site
Cape Lookout NS, Outer Banks, N.C. The closest we got was a sneaking glance through a telescope, located at the landlocked Visitor Center. The National Seashore is accessible only by a privately-hired boat, has no facilities and would have made a troublesome visit given the high winds and unpredictable temperatures of late-hurricane season.
Most Out of the Way Site (Landlocked Version)
Cape Henry N MEM on the Fort Story Military Base, Virginia Beach, Va. The guard at Gate 2 turned us around and sent us to Gate 1 a few miles down the road where our car was searched and our photo IDs were presented. They gave us a visitor's pass and told us to keep it on the dashboard, next to the alligator. We carefully kept our cameras pointed at the Memorial and the Cape Henry lighthouses – they are a little strict about these things on active military bases.
Best Local Cuisine
Brunswick stew, Old Dominion Ham Biscuits and Carolina BBQ met us at every turn. Not to mention the Black-eyed Pea Fritters, Low Country Boils and Cheese Grits. We put on a few pounds but it was well worth it.
Best Multi-Tasking
Asheville Pizza and Brewing Company, Asheville, N.C. offers delicious pizza and beer as its name implies, but also a massive game room and a $2 movie theater. Both Halloween evening showings of the Rocky Horror Picture Show were sold out by the time we found this gem.
Best Tour Guide
Once again a guide from Appalachian Wildwater takes the cake. Kevin steered us safely down the Gauley River in West Virginia. It's hard not to give this prize to someone who pulled you out of churning whitewater and back into the raft. Twice.
Worst Acting in a National Park Service Film
Michael Longfield was the star of a one man tour de force at Fort Moultrie, part of the Fort Sumter NM, S.C. Michael, listed as "Sergeant" in the credits, portrayed soldiers from the Revolutionary War all the way up to the closing of the Fort in 1947 - using a wide array of costumes, various modes of facial hair and no less than 8 accents. Never mind that the origin of the accent was usually unclear.
Most Disputed Historical Statement
Kings Mountain NMP, Cowpens NB Guilford Courthouse NHS and Ninety Six NHS all claim to be "The Turning Point in the Revolutionary War".
Best Smelling Factory
The entire town of Winston-Salem, N.C. smells like tobacco, particularly around the RJR Road and King Tobaccoville exits. Just follow the aroma to Tobacco Road.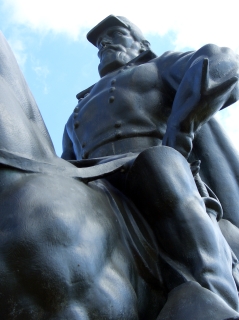 Best Giant Statue
The "Stonewall" Jackson Memorial at Manassas NBP, Va.. We were amazed by the general's awesome Superman-like physique. A Ranger at Stonewall Jackson's Shrine in the Richmond NBP confided that they called this the "Steroid Statue."
Almost Celebrity Sightings
Who's that on stage belting out Elvis? We can hardly see her over the dancing and singing crowd. Why, my goodness. Is it…no it can't be. Yes! It's GAB, debuting as a karaoke queen at the Jolly Roger in Kill Devil Hills in the Outer Banks of North Carolina. Michael has a feeling this will not be her last time behind the mike.
And did you know that Cooter from Dukes of Hazzard fame has his own restaurant in Gatlinburg, Tenn.? We weren't hungry so we didn't stop, although the "Cletus here today" marquee was inviting. (now, which one was Cletus?).
Most Excessive Use of Public Funds
Give a Hoot. Don't Pollute! Wartburg, Tenn. is serious about keeping their town clean of litter. So serious that its litter patrol actually has its own patrol car. Is that a Smokey? No, it's Woodsy.
Best Campground
umm, we only camped once this month. It's getting kind of cold you know…
Manassas, VA • Dumfries, VA • Pope's Creek, VA • Fredericksburg, VA • Richmond, VA • Kents Store, VA • Charlottesville, VA • Beckley, WV • Oak Hill, WV • Lexington, VA • Lynchburg, VA • Appomattox, VA • Petersburg, VA • Richmond, VA • Jamestown, VA • Williamsburg, VA • Yorktown, VA • Newport News, VA • Norfollk, VA • Virginia Beach, VA • Kitty Hawk, NC • Kill Devil Hills, NC • Nags Head, NC • Manteo, NC • Hatteras Island, NC • Ocracoke Island, NC • Beaufort, NC • New Bern, NC • Greenville, NC • Raleigh, NC • Durham, NC • Chapel Hill, NC • Wilmington, NC • North Myrtle Beach, SC • Georgetown, SC • Charleston, SC • Mt. Pleasant, SC • Sullivan's Island, SC • St. Matthews, SC • Camden, SC • Columbia, SC • Ninety-Six, SC • Spartanburg, SC • Cowpens, SC • Blacksburg, SC • Campobello, SC • Flat Rock, NC • Hendersonville, NC • Asheville, NC • Cherokee, NC • Gatlinburg, TN • Pigeon Forge, TN • Knoxville, TN • Alcoa, TN • Oak Ridge, TN • Wartburg, TN • Oneida, TN • Middlesboro, KY • Greeneville, TN • Mars Hill, NC • Asheville, NC • Greensboro, NC • Mt. Airy, NC • Roanoke, VA
Manassas NBP • Prince William Forest Park • Fredericksburg & Spotsylvania NMP • George Washington Birthplace NM • Richmond NBP • Maggie Walker NHS • Gauley NRA • Appomattox Court House NHP • Petersburg, NB • Jamestown NHS • Yorktown Battlefield • Colonial NHP • Cape Henry MEM • Fort Raleigh NHS • Cape Hatteras NS • Wright Brothers N MEM • Cape Lookout NS • Moore's Creek NB • Fort Sumter NM • Fort Moultrie NM • Charles Pinckney NHS • Congaree NP • Historic Camden • Ninety Six NHS • Kings Mountain NMP • Cowpens NB • Carl Sandburg NHS • Blitmore Estate • Great Smoky Mountains NP • Obed WSR • Big South Fork NRRA • Cumberland Gap NHP • Andrew Johnson NHS • Blue Ridge PKWY • Guilford Courthouse NHS • Booker T. Washington NM
USA-C2C.com is an independent website, not affiliated in any way with the National Park Service, the National Parks Foundation or any of their partners.
(c) copyright 2003-2007
No photos or text can be copied from this site without written permission.